Our community connection activity encourages students to investigate local history and to explore shared experiences with overseas communities.
U.S. and European students complete a series of exploratory activities to earn the same IN THEIR FOOTSTEPS pin and certificate, which further establishes a sense of shared experience and connection.
Structure
To receive the IN THEIR FOOTSTEPS pin and certificate, students must complete at least one activity in each of the following categories:
LEARN
Complete a WW1 or WW2 course of study or lesson at school.
Read a book from a WW1 or WW2 reading list.
Complete an individual or group project about WW1 or WW2.
EXPLORE
Visit a local WW1 or WW2 museum or exhibition.
Visit a local museum or exhibition that tells the story of your community in the 1900s/1910s or the 1920s/1930s.
Visit local places that a young person in the 1900s/1910s or 1920s/1930s might have visited.
REMEMBER
Visit a WW1 or WW2 memorial in your community.
Visit the gravesite of someone who died in WW1 or WW2 and who is buried locally.
Attend, participate in, or volunteer for a WW1 or WW2 event, or any commemorative event remembering local veterans.
CONNECT
Learn about overseas places that are connected to the WW1 and WW2 stories of people from your community (towns/cities, battlefields, cemeteries)
Correspond with people from overseas places that are connected to the WW1 and WW2 stories of people from your community.
For each activity, students should engage in analysis and reflection that is appropriate for their age/level.
These requirements can be adapted to emphasize a participating classroom's or organization's educational goals; we also offer a number of suggested approaches for each activity.
European participants must focus on how individual Americans in WW1 & WW2 impacted their local communities; the above requirements may be modified accordingly.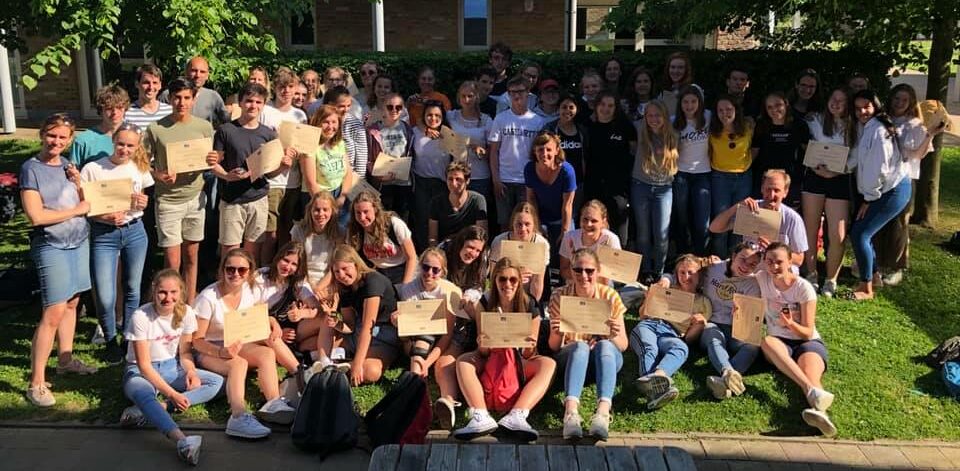 How to participate
Our Community Connection program is open to any interested school, educational organization or youth group that commits to ensuring that its students complete the activity requirements and agrees to share the work of its students with our organization.
There is no cost to participate, other than a materials fee and mailing expenses for recognition pins and certificates (typically less than $4 per student). Subsidies may be available in some cases.
To learn how your classroom or youth group can join students on both sides of the Atlantic in exploring community connections, contact us!